Chiltern House Preschool is named after Julia Gabriel's parents' home in England. It offers full childcare services within a comprehensive preschool curriculum.
Every quarter, Chiltern House Preschool will have an 'Open Week' for parents who are choosing a preschool to find out more about the school's curriculum as well as tour the premises.
The response to 'Open Week' plays a key role in the number of yearly enrolments in Chiltern House Preschool.
As a result of continuous optimisation of their campaigns, we managed to

decrease the overall CPA by

more than

40%

for their 'Open Week' sign-ups from year 2018 to year 2019.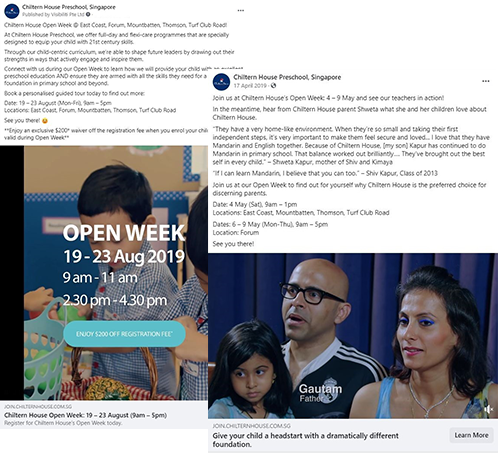 This was possible as we leveraged the data from their 2018 campaigns to fine-tune our ads in 2019.
We interpreted the data and discovered that video ads on Facebook for Chiltern House Preschool have continually performed well.
From this, we know that video ads are well-received and contribute most to the conversions, and hence we were able to channel more ad spend toward these high performing ads to maximise conversions at a lower cost.
Achieve your business goals with qualified leads and sales today!
Get in touch with us here